MOND in the news
The Universe Is Not a Simulation, but We Can Now Simulate It, Quanta magazine, 6/12/18
What is Dark Matter and Why Hasn't Anyone Found It Yet? Gizmodo, 6/7/18
Our Galaxy was walloped, Gizmodo, 4/30/18
Dark matter is MIA in this strange galaxy Science News, 3/28/18
A Galaxy Without (Much) Dark Matter Sky and Telescope, 3/28/18
System of the World dialogue, 2/22/18
Galaxies rotate in sync, raising dark matter questions Space.com, 2/3/18
La materia oscura pierde por goleada ante el principio de la navaja de Occam ABC (Spain), 11/27/17
SEARCH FOR DARK MATTER DEALT ANOTHER BLOW AS ANOTHER HIDING PLACE FOR ELUSIVE SUBSTANCE RULED OUT Newsweek, 11/9/17
Dark-matter hunt fails to find the elusive particles Nature, 11/8/17
What the Neutron Star Collision Means for Dark Matter Smithsonian, 10/31/17
The Future is Dark LSA Magazine, Fall 2017
We don't need dark matter to explain the universe Motherboard 10/4/17
Shaking the dark matter paradigm Symmetry 7/18/17
The Superfluid Universe Aeon 7/17
THINK Magazine 7/17
The Guardian 12/31/16
Physics World 10/7/16
Forbes 9/23/16
Il Manifesto (full page spread, in Italian)
The Daily Galaxy 9/24/16
NanoWerk 9/21/16
Radial Acceleration Relation press release 9/21/16
Dark Matter Deniers 7/15 (Discover magazine)
Video of public talk for the Toledo Astronomical Association 3/15
New Doubts about Dark Matter 12/14 (Forbes)
The Missing Universe 4/14 (Astronomy magazine cover story) | also here
From Quarks to Quasars 11/29/13
National Geographic 8/29/13 Also here
Yahoo News 8/29/13
newKerala 8/29/13
DNA India 8/29/13
Z News (India) 8/29/13
webindia 8/29/13
Athiest nexus 8/28/13
Science 2.0 8/28/13
Science Newsline 8/28/13
Science News 8/28/13
Andromeda dwarfs revisted: a priori predictions confirmed - press release 8/28/13
Letter from Milgrom to Bahcall in 1982 7/13
It amazes me that all the basic issues are already present. Have we really made no progress in 3 decades? Apparently not in attitudes: the first reaction is always that it is premature to consider alternatives to dark matter, and since dark matter is not falsifiable, that attitude persists indefinitely.
National Geographic 3/25/13 Also here
Interview for German Public Radio 3/22/2013
Incredible Story of attempted censorship 3/8/2013
New Scientist 2/28/2013
Time Science & Space 2/26/2013 | reply to Siegel | reply to ialsoagree
Andromeda dwarfs' velocity dispersion predicted - press release 2/14/2013
Andromeda dwarfs on physorg 2/14/2013
Andromeda dwarfs on MessageToEagle 2/15/2013
Andromeda dwarfs on redOrbit 2/15/2013
Andromeda dwarfs press release 2/14/2013
Physics World 10/1/2012
Science et Vie 9/2012 (No. 60, p. 112. In French)
Gas Rich Galaxies Confirm Prediction of Modified Gravity Theory press release 2/22/2011

Viewpoint for PRL by Masters & Spekkens

Original articles: Science & Vie (in French) | BBC | Science | Nature | motherboard | NZZ (in German)

Other articles: io9 | redOrbit | PhysOrg | ScienceDaily | technologijos (in Lithuanian)

The blogosphere reacts:

User's Guide to the Universe | The Dayside | Cosmic Variance | Starts with a Bang | Weizman Wave | Particle Decelerator
Trialogue with Rainer Plaga and Sean Carroll.

History of Cosmology (in French)
Reliance on Indirect Evidence Fuels Dark Matter Doubts in Scientific American 12/30/2010
An interesting thread provoked by the astronomy decadal report.
See here for the full text of my quote solicited by Pavel Kroupa
Bringing dark matter down to Earth and Dark matter could meet its nemesis on Earth in New Scientist 2/24/2010
Matiere Noire in Ciel & Espace 2/2010
Tweak Gravity: What If There Is No Dark Matter? in Scientific American 11/5/2009
Mystery of the missing mini-galaxies in New Scientist 8/24/2009
Phantom menace to dark matter theory in New Scientist 7/8/2009
13 Things That Don't Make Sense: The Most Baffling Scientific Mysteries of Our Time (book by Michael Brooks) 8/8/2008
A case of MOND over Dark Matter in Universe Today 4/8/2008
Local Dwarfs in Science Daily 4/7/2008
BBC report from the UK National Astronomy Meeting 4/5/2008
RAS press release 4/4/2008
Galaxy without dark matter in New Scientist 2/6/2008
Radio chat on WCPN 9/10/2007
Dark Matter is Dead in the BBC's Sky at Night 9/2007
Seeing Through Dark Matter in Science 8/2007
Article in Le Monde 5/2007 (in French)
Battlefield Galactica in Sky & Telescope 4/2007
A jump that would prove Newton wrong in Nature, 446, 357 (2007)
Equinox challenge to Newton's law in New Scientist, 2597, 15 (2007)
Meet me at 79°50' N, 56° W in Science News, 171 (13), 206 (2007)
Experiment sets the ultimate test for Newton's laws PhysicsWeb, 3/2007
Can Newton's 2nd Law be Violated on Earth? PhysOrg, 3/2007
Could self-moving objects explain away dark matter? World Science, 3/2007
Bewährungsprobe für Newton Wissenschaft, 3/2007
Inaugural Letter from a Contrarian for Cosmic Controversy 1/2007
Article in Ciel & Espcace 12/2006 (in French)
Physics Today Search & Discovery 11/2006
Balanced article in Physics World stemming from the ROE conference.
Nice interview of Jim Peebles
Milgrom's article for Scientific American 8/2002
BBC Horizon programme
Prof. Noah Brosch's newspaper article (in Hebrew)
My philosphical tirade as published by futureframe (translated by Phillip Helbig)
info.astro report on CMB result (in Spanish)
CMB report on PhysicsWeb
See also the more complete listing in the appropriate section of the literature page.
---
Other related sites
---
Of course, there is a perfectly natural explanation for it all.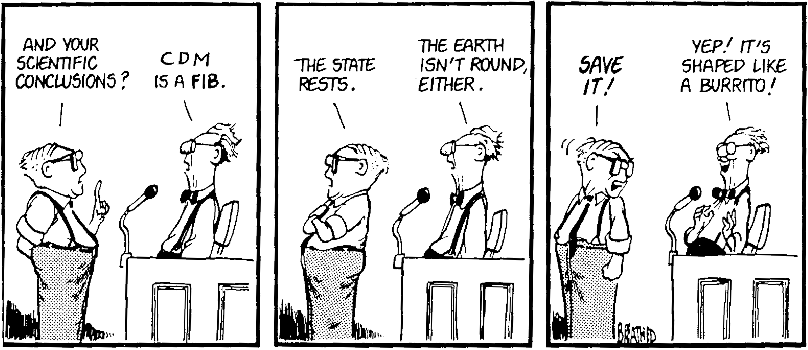 Adapted from Bloom County, &copy Berke Breathed
---
My original pages (predating this attempt to better organize these things) can be found behind this humorous interface. I suppose this would be called a blog these days, but no such term existed when I started these pages. Looking back over these older pages I hope my flame level has decreased in proportion to the increasing willingness of people to at least contemplate these fundamental issues. But then, I only waste time on HTML when motivated by some egregiously erroneous misconception (many of which remain rampant in the scientific community), so there is a mood selection effect. I do understand why many have been quick to dismiss MOND without serious thought. I used to be this way myself. I've heard many very silly things said about it by otherwise intelligent people. It is always a struggle to see something from a new perspective:
"The so-called `electromagnetic theory of light' has not helped us hitherto... it seems to me that it is a rather backwards step."
- Lord Kelvin, in 1903, on Maxwell's Theory of Electromagnetism (as attributed by John A. Wheeler).
---
| | |
| --- | --- |
| Of course, most people have completely different cosmologies. | |
---
For further perspective, also see the ad hoc gallery of amusing quotes.

MOND - dark matter - modified newtonain dynamics
MOND - dark matter - modified newtonain dynamics


MOND - dark matter - modified newtonain dynamics
MOND - dark matter - modified newtonain dynamics
MOND - dark matter - Modified Newtonain Dynamics
MOND - dark matter - modified newtonain dynamics